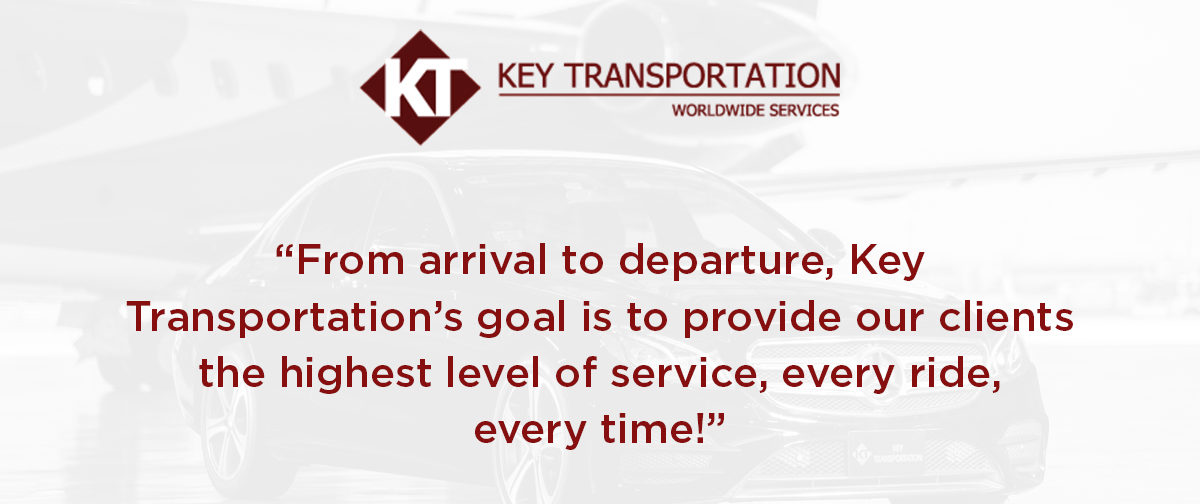 ABOUT US
Established in 2000, Key Transportation Worldwide Services (Key) is the largest woman-owned and operated transportation company in Miami.   Key provides airport transportation, shuttle service, corporate transportation, charter service, specialty tours, and logistics management. Based in Miami, our award-winning transportation service operates worldwide.
Many members of our highly experienced team including our dispatchers, reservationists and chauffeurs have been with Key for an average of 15 years. This continuity, consistency, and experience have proven to be instrumental when preparing and managing large scale and complex events.
Key Transportation Worldwide Services offices and maintenance facilities at 199 NW 79th Street are centrally located in Miami, which is 15 minutes from Miami International Airport and 25 minutes from Fort Lauderdale International Airport. We are experienced in setting up satellite locations as may be required by specific events to seamlessly facilitate our communications and logistic services.
Our in-house maintenance staff and facilities ensures that Key vehicles are exceptionally maintained, providing the highest quality experience for your guests.
New referrals appreciate this same professionalism and friendliness. Our attention to detail from proposal delivery to clients arriving at their destination set Key apart from competitors. Our focus on the importance of delivering impeccable service allows clients to "leave the driving to us" and manage the remaining details of their event.
Key Transportation Worldwide Services is the exclusive transportation partner for the Fort Lauderdale International Boat Show which is largest boat show in the world, and the Miami Open Tennis Championship Games.  In 2018, Key was chosen as, The Best Limousine Company in Miami" by the Miami New Times.
KEY OBJECTIVES
To provide our customers the highest level of luxury service and satisfaction.
To provide a team of highly experienced professionals that work 24 hours a day, 7 days a week, 365 days a year to serve our customers.

ECO-FRIENDLY & ENVIRONMENTAL SUSTAINABILITY
Since its inception, Key Transportation Worldwide Services has used every means available to be an environmentally conscious organization.
We use boxed water instead of plastic bottles in our vehicles. Part of our employee orientation focuses on the company's commitment to sustainability. Whenever possible we use non-disposable dishes and utensils and non-waxed paper plates and bamboo utensils are kept on hand. Although our municipality does not supply commercial areas with recycling bins, we go the extra mile because we believe the environment is worth the investment. All recyclable products are separated into our own recycling bins for contracted pickup. Plastic bags are collected separately and taken to a facility that accepts them.
Licensed recyclers are used to collect and re-purpose all of the consumables used to operate Key Transportation Worldwide Services fleet of vehicles, such as engine oil, oil filters, brake fluid, coolant, and batteries. Metal, plastic and aluminum replacement parts are separated after repair from the vehicles and collected by a scrap metal recycler.
Our Chevrolet models utilize flex fuel which is composed of 85% ethanol and 15 percent gasoline. Ethanol is normally produced from fermented and distilled corn, a renewable energy source as opposed to gasoline, which is not.
Save the trees! We operate our entire business on Limo Anywhere, a paperless livery software system. Chauffeurs receive their work assignments electronically on a tablet or mobile phone.
Luxury Limousine Ground Transportation
Our experience allows us to provide each corporate customer with:
Nationwide service – allowing you to utilize only Key for all of your corporate transportation needs.
Live support at your fingertips, 24 hours a day, 365 days a year by email, phone and SMS.
Individualized custom profiles created for each guest ensuring that future bookings are made quickly and efficiently.
Online booking – web-based reservation system to access and manage accounts and travel arrangements, as well as retrieve/print invoices and receipts.
Immediate confirmation of service.
Airport greeters and on-site coordinators to ensure your executive or group get where they need to be (on request at an additional cost).
Real time ride status notification of your Chauffeur / Client.
Our fleet features only the highest quality, late model luxury vehicles.
Professional chauffeurs (licensed, insured and background checked)
Let Key provide you with unparalleled services while you focus on your business. We'll handle the rest!